I wanted to address a recent article by David Drucker in August's Financial Advisor Magazine titled Keeping the Lines Open. Here's the important section (my emphasis added):
Also basic but often overlooked are commonly accepted rules for an effective client e-mail. Says Gregory, you maximize its effectiveness by making sure your e-mail has a compelling subject line, is tightly written and edited, is addressed and targeted to one client at a time and is designed with a lot of white space, which makes the e-mails easier to read by allowing you to compose them in a noncluttered, eye-inviting manner.
"But Bill," you might say, "I'd love to send out personalized and targeted emails to all of my clients, but with 250 clients, it would take many hours or even a full day." Instead, I can imagine what "targeted" emails advisers might be sending now: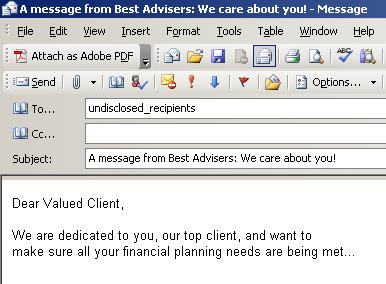 Isn't it a tad bit ironic that your best clients are still receiving emails with the salutation "Dear Valued Client?"
Yes, I'm here to tell you that you can easily personalize bulk emails sent to clients. Here's how to do it.
Bulk Email Providers
First, the easy way to customize email communication to your clients is to subscribe to a service like Constant Contact.  There's a monthly fee of $15 for an email list of up to 500 clients, which is more than adequate for all but the largest of independent financial planning firms.
However, using a service like Constant Contact means that your email messages will have Constant Contact's banner across the bottom of the message like the one shown below.  This may or may not be a bad thing (especially since there's subscription removal information), but it's one thing to keep in mind.

Using Outlook's Mail Merge
So you decided you don't want to pay $15 for the one or two bulk emails you may (or may not) send each month.  Instead, you can use Microsoft's built-in mail merge feature.
First, there are two things to remember regarding Microsoft's mail merge. Number one, you cannot customize the subject field to the recipients. When the final step in the mail merge is completed, a window pops up where the subject of the email is defined for all recipients (shown below). THIS is the subject of your merged emails, NOT the subject typed in the sample message in Outlook.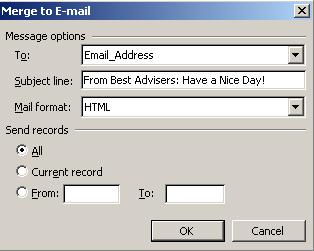 Number two, you cannot easily include attachments in mail merged emails. There are some Visual Basic macros that can make this happen, but they are beyond the scope of reasonable capabilities for financial adviser firms.  So the personalized message to your clients should not refer to any attachments to the email.
Mail Merge Wizard
The mail merge wizard walks through the process of generating customized email messages fairly well.  To begin the mail merge process, either open a blank document in Word or open a new blank email message in Outlook (provided that Word is your email editor).  Click Tools->Letters and Mailings->Mail Merge… to open the Mail Merge Wizard.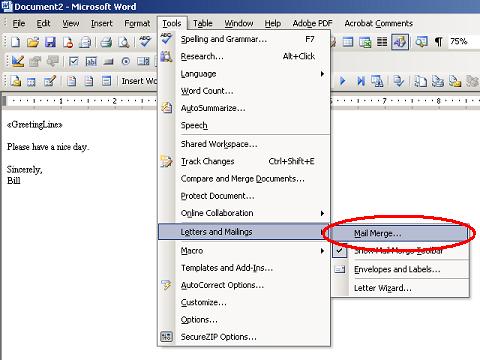 Walk through the steps in the mail merge wizard to select email messages, select the message recipients (you can use an existing list of contacts or even use an Excel spreadsheet of names and email addresses), and draft your message.  In Step 4 of the wizard you can insert the customized fields such as the Greeting line.  Note my image above; the <<Greeting Line>> field is shown, and it is here that all of the recipient's first names are merged.  Step 5 will preview each message to be generated.  Click through the recipients to see that the greeting line is customized for each recipient.  In other words, each message has a custom salutation for your client rather than the generic "Dear Valued Client."
Finally, Step 6 completes the merge and brings up the Merge to E-mail window shown earlier.  Type in the subject that all your clients will see, choose send to all records, and click OK.  At this point all the customized email messages are generated and sent from your address to all your selected recipients.
More Mail Merge Guides 
Since I didn't address all the specifics of the mail merge process (such as matching the field definitions of contact information), I want to include a link to a knowledge base article at Microsoft that describes more of the details.
Click here to view Connie Miller's mail merge article at Microsoft.  
Finally, you can search Google to find many other helpful articles on the subject.
One word of wisdom.  Test your merge by sending a message to your various personal email addresses with different salutation lines.  You don't want to make a mistake with your first mail merge and accidentally send it to all your clients while you're testing the interface.  Practice this one a few times before committing to your final message.
And thankfully, you'll put an end to those generic emails to clients!