Thank you to Financial Advisor Magazine for featuring this post on LinkedIn and SEC compliance.  If you're new to FPPad, please consider subscribing to the RSS feed or subscribing by Email.
I'm going to open up a topic that has the potential to create a bit of controversy.  Here's my bold statement:
Investment advisers registered under the SEC who use the "Recommendations" feature of LinkedIn.com may be in violation of Rule 206(4) of the Investment Advisers Act of 1940.
I've discussed this topic with several members of my local financial planning community, including investment adviser litigation defense attorneys.  More recently the topic has come up in discussions with other professionals I have connected with through Twitter, including Susan Weiner, CFA and Kristen Luke.
Investment Adviser Rules
Let's start with Rule 206(4)-1(a)(1).  It says the following:
a. It shall constitute a fraudulent, deceptive, or manipulative act, practice, or course of business within the meaning of section 206(4) of the Act for any investment adviser registered or required to be registered under section 203 of the Act, directly or indirectly, to publish, circulate, or distribute any advertisement: (1) Which refers, directly or indirectly, to any testimonial of any kind concerning the investment adviser or concerning any advice, analysis, report or other service rendered by such investment adviser
This rule explicitly prohibits the use of testimonials of any kind, whether they directly or indirectly refer to the investment adviser.  Testimonials cannot be published, directly or indirectly, by registered advisers.
LinkedIn Recommendations
LinkedIn Recommendations allow users of the online social networking website to post recommendations and endorsements that appear on the profile page of other users.  Recommendations are useful for supervisors to provide valuable feedback concerning the performance of an employee, or perhaps business owners to comment on the performance of contractors.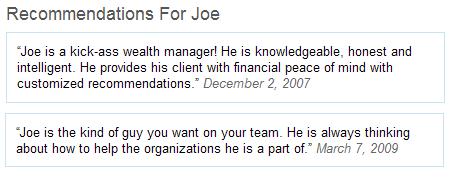 As LinkedIn becomes increasingly ubiquitous in the social networking space, I see more and more investment advisers that have set up profiles on the site.  A LinkedIn profile not only helps advisers connect with other advisers and colleagues, but it can also attract prospects and potential clients searching for a qualified adviser.
But what happens when investment advisers registered with the SEC begin to receive recommendations that are posted to their profile?
Any Testimonial of Any Kind
We've plainly seen in IAA of 1940 that testimonials of any kind are strictly prohibited by Rule 206(4)-1(a)(1).  So what is an adviser to do?
I believe the answer is that all State and SEC-registered investment advisers must never allow LinkedIn Recommendations to be posted to a public LinkedIn profile.
Are there any real cases where the State or SEC has fined an adviser or issued a deficiency notice?  I have not heard of any as of the date of this post.
However, I would prefer that the first public reference to such a case not feature my name in it.  As such, I do not permit any recommendations to be posted to my LinkedIn profile. I recommend that registered investment advisers clear their profile of recommendations as well.