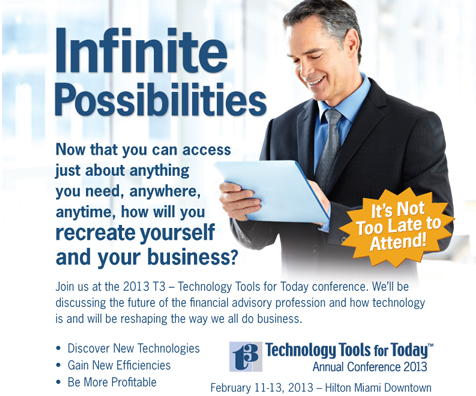 Today I'm headed out early to the T3 conference in Miami, FL. Stop by and say hi if you're attending; I'm speaking on Tuesday at 1:15pm (Defending Your Business from Hackers) and 2:40pm (Current Technology Trends) and again on Wednesday at 8am (File Sharing and Collaboration Software).
Here are this week's stories of interest:
Ten Tips That Could Prevent Cyber Criminals from Hijacking Client Data from WealthManagement.com
[Remember the Phishing, Hacking, and Spoofing article I wrote here last year? See: Why advisers can't trust their clients anymore. Now a bunch of the major financial trade publications are picking up the story on ways advisers need to protect their business and their clients' personal information, because hackers are exploiting holes in security and are stealing money.] As tablet ownership continues to grow—doubling since 2011—and more than half of U.S. consumers owning a smartphone, according to a 2013 Forrester Research report, advisors need to be more vigilant about data security now more than ever. Below are 10 easily implemented safeguards that could prevent advisors becoming an easy target for cyber thieves.
Windows 8 Review: 5 Things to Know from Financial-Planning.com
[Joel Bruckenstein wrote this good review of Windows 8 and the pros and cons the new operating system offers to financial advisers (See: Windows 8 for financial advisers: Pros and cons from FinFolio CEO Matt Abar). I admit, I couldn't convince myself to personally buy a copy of Windows 8 to try it on my own. I know, I know, I'm a technology consultant, and I should have experience with ALL software systems available, but still… it's a Microsoft product, and I stopped using their OS in 2011. Nevertheless, you will likely need to replace an aging Windows machine, and Windows 8 is about your only reasonable option for the OS.] Whenever Microsoft releases a new operating system, it is a significant event. And the latest edition of its operating system, Windows 8 – designed to work on desktop computers, laptops, tablets and smartphones – is much more than a PC operating system.