Note for September 2014: Like technology, podcasts change and get updated. Look for a new article covering the Best Podcasts of 2014 for Financial Advisers!
Here are the five best podcasts of 2013 featuring content specific for financial advisers
Few will argue that the amount of content online for financial advisers is exploding.
There are dozens of websites from traditional print publications that run digital editions of their magazines as well as online-only content.
Then there are several dozen more blogs and niche sites covering a wide range of topics relevant to financial advisers (with the top site being Michael Kitces' Nerd's Eye View blog*)
Podcasts for Financial Advisers are Rare
But one media format with just a handful of "publishers" is the podcast.
Sure, there are many podcasts with consumer-oriented content, featuring personal finance advice on how to pay down debt, reduce fees on investments, diversify a portfolio, and more. Many of these podcasts are excellent, but they don't include content that addresses the issues concerning financial advisers and operating an advisory business.
The number of podcasts being created with content exclusive for the financial adviser audience is extremely small. Like less than ten.
Five Best Podcasts for Financial Advisers
With so few podcasts being created for financial advisers, how will you discover those with content applicable to your needs?
The answer is in my list of the five best podcasts for financial advisers!
But wait, why just five? Because that is exactly the number of active podcasts (with activity over the past year) to which I subscribe that I know produce content specifically for the financial adviser audience.
So here is my personally curated list of the five best podcasts for financial advisers, free and clear of irritating pageview-increasing slideshow gimmicks! (You can thank me by sharing this list with your friends.)
Pre-List Bonus: FPPad Technology Podcast

First, let me first start off with a pre-list bonus, because I have a horse in this race, too. If you don't already know, audio and video content from FPPad is available as a podcast on iTunes.
So if you're not yet subscribed, subscribe now!
But why subscribe on iTunes if you can get the content on FPPad.com?
Because in the Podcasts app on your iOS device, you can download content for listening or viewing when you're offline or away from a strong broadband connection. Also, the Podcasts app lets you increase the playback speed of content, so you can get your five-minute weekly technology update finished in just over three-and-a-half minutes! Now that's an instant productivity boost of 33%!
1. Social Media Minute Podcast by RegEd

The Social Media Minute Podcast by RegEd is the best podcast for advisers seeking information on all things related to social media. Blane Warrene is host and producer of the Social Media Minute Podcast and does an excellent job addressing the timely issues surrounding the social media landscape.
As Senior Vice President of Customer Communications at RegEd, Warrene knows his stuff on social media. Sure, the content helps build awareness of RegEd's social media compliance and content products, and that's partly the point. But know that this podcast is all about deepening the conversation around financial advisers and social media and is NOT a blatant product promotion.
2. AdvisorToday.com's Building a More Successful Practice by NAIFA

NAIFA, the National Association of Insurance and Financial Advisors, publishes a new podcast once every two months with a variety of content centered around practice management and business building ideas.
Occasionally the content addresses issues in the insurance marketplace, such as disability income policy sales and long-term-care insurance updates, but many of the podcasts feature interviews with advisers and insurance agents discussing strategies they have implemented to grow their business and enhance client service.
Subscribe to the AdvisorToday.com podcast now as six episodes per year will not fill up your "to-be-listened-to" playlist, and your odds of learning a good business-building idea are pretty good.
3. Journal of Financial Planning Podcasts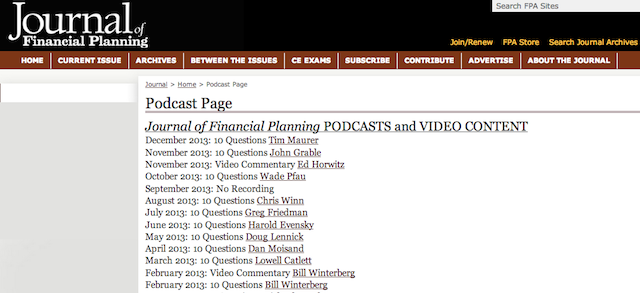 The award-winning Journal of Financial Planning has been in print for over 30 years, and just over three years ago the publication started creating podcast content around many of its featured articles and authors.
The Journal of Financial Planning Podcast Page is somewhat of a best-kept-secret, since there is one simple icon on the navigation menu of the website home page, but each print article featuring additional podcast content directs readers to the website to listen to more information.
Journal of Financial Planning Podcasts are centered around the "10 Questions" interview features, giving readers a chance to hear from authors, financial planners, and thought leaders in the industry (self-promotion warning: I was interviewed in February 2013).
While not directly available as an iTunes podcast, you can still manually download and then drag and drop audio files to your media player of choice to listen offline, at the gym, or during your commute.
4. AdvisorPod Practice Builders by Securities America, Inc.

Securities America, Inc. is a broker-dealer that walks-the-walk on practice management advice. Not only does the company urge its reps to be more active with client outreach and marketing initiatives, Securities America publishes these podcasts for advisers to back up what they say.
Led by Kirk Hulett, Executive Vice President of Strategy and Practice Management, AdvisorPod releases monthly updates on a wide range of practice management tips, including outreach to CPAs and other COI individuals, retaining relationships through family transitions, mobile app reviews and more.
5. Build Online Influence with Stephanie Sammons

Build Online Influence is a podcast from Stephanie Sammons, founder and CEO of Wired Advisor. Wired Advisor is a professional blogging platform for financial advisers and business professionals.
In Build Online Influence, Sammons reviews techniques financial advisers can use to increase their profile and brand recognition through the use of social media. Several of her podcasts include interviews with financial advisers who have created a large audience of people interested in financial planning (i.e. prospective clients) through their social media activity. Build Online Influence attempts to reveal what strategies work (and those that don't) to help advisers compete in a social marketplace that is getting more crowded each day.
While Build Online Influence hasn't been updated since January 2013, I know that Sammons is still active in her work with advisers, so I trust that a listing here in my top five podcasts for financial advisers will be enough motivation for her to pick up where she left off! Perhaps a tweet or two to Sammons wouldn't hurt, either!
Who Would You Include?
There you have it! My top five podcasts of content created just for you, the successful financial adviser.
Inevitably, I likely missed a handful of other podcasts out there publishing outstanding content for the financial adviser audience. Tell me which ones I missed in the comments below, and hopefully with enough submissions, I can double the list to include the ten best podcasts for financial advisers.
But first, I want podcasts with business building ideas, technology coverage, practice management ideas and so on. Podcasts with economic commentary, stock picking ideas, or investment-centric content can be curated by someone else!
So tell me what podcasts I missed in the comments below, send me a tweet, or email me offline.
Audience Additions
Here are some of the podcasts recommended by readers since this article was posted on November 25, 2013.
*2013 top blogs according to the Zywave 2013 Top News and Blog Sites for Advisors Survey.