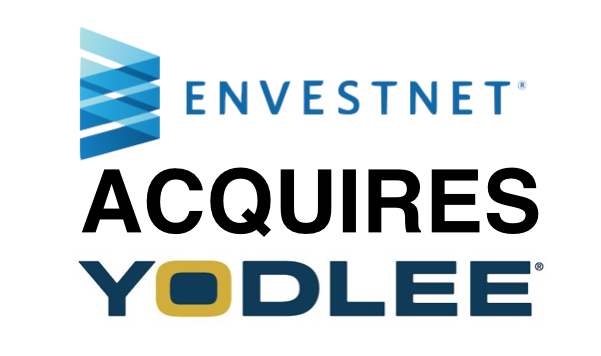 Fast Facts:
Yodlee, known by financial advisers mainly for its data aggregation services, agreed to be acquired by Envestnet, the wealth management services and technology provider to financial advisers.
The deal is valued around $660 million.
Yodlee raised $75 million in an October 2014 IPO after approximately 15 years as a private company, valuing the company around $340 million.
Financial advisers do not directly use Yodlee products or services, but many of the technology services they do use employ Yodlee account aggregation services (see below).
Current competitors to Yodlee include Aqumulate, ByAllAccounts (acquired by Morningstar for $28 million in April 2014), Intuit's Customer Account Data (CAD) API, Plaid,  Quovo, and OpenFinance.
Fiserv's CashEdge also performs account aggregation and the company sells an advisor-facing aggregation product called AllData Advisor®.
MoneyGuidePro has offered discounted pricing for Yodlee, but now is presented with a conflict given that Yodlee's new owner also recently acquired Finance Logix, a competing financial planning software solution.
Who Uses Yodlee?
Noteworthy adviser technology vendors who use Yodlee include Blueleaf, CircleBlack, MoneyGuidePro (see MoneyGuidePro to integrate Yodlee for account aggregation), Orion Advisor Services, Wealthminder, Wealth Access, and Wells Fagro.
The MoneyGuidePro relationship presents an interesting conflict, as the financial planning software provider competes with financial planning solutions from Finance Logix, a company that Envestnet also acquired earlier this year (see Envestnet Acquires FinanceLogix As The Integrated Financial Planning And PFM Buying Frenzy Continues from Kitces.com).
The Yodlee acquisition by Envestnet, now owner of Finance Logix, can't be sitting well with PIETech, Inc. executives (the creators of MoneyGuidePro).
Outside of adviser-specific tools, Personal Capital is also a Yodlee subscriber, and so is Blooom, Future Advisor, LearnVest, and Openfolio.
Who Doesn't Use Yodlee?
Interestingly enough, eMoney (see Fidelity Investments acquires eMoney Advisor) uses its own proprietary connections for roughly 90% of all data feeds and rounds out the rest using Fiserv's CashEdge. NaviPlan had once used Yodlee more than ten years ago, but I cannot confirm today whether or not aggregation by Yodlee is in use today. I suspect it is not, given Advicent's recent acquisition of Figlo.
Good or Bad?
So is this good or bad for financial advisers?
If you're Envestnet, or if you use Envestnet products and services in your business, this acquisition is good. Very good. Envestnet now has a very broad portfolio of services that helps financial advisers run efficient businesses.
What services, you ask? They offer CRM, portfolio management and reporting, client portals, business intelligence, and mobile apps from Envestnet|Tamarac, financial planning software from Finance Logix, and now account aggregation from Yodlee.
If you're a vendor who competes with Envestnet AND offers account aggregation to your financial adviser users, it could be bad. One of your product's competitive differentiators, account aggregation, just got acquired by a leading vendor of financial technology and portfolio management solutions to advisers. Now what do you do?
And if you're an adviser who doesn't use Envestnet, your choices for an independent account aggregation solution are now smaller. Who's left? Aqumulate, Intuit, Quovo, and Openfinance.
ByAllAccounts is owned by Morningstar (but an important note is that Morningstar doesn't sell investment products or portfolio services, but rather adviser technology and investment research).
And Intuit is a special case, too, as once again, advisers can't directly purchase or subscribe to Intuit aggregation. Aggregation from Intuit must be integrated by a third-party technology provider.
Openfinance is one to watch, as I was told recently that First Rate, SunGard's main performance reporting partner, teamed up with OpenFinance to provide aggregation solutions for First Rate integration partners (e.g. Grendel CRM from Big Brain Works).
Plaid is out there too, but as far as I can tell, their bread-and-butter customers are consumer-oriented financial apps like Acorns and robinhood.
So overall, are the limited choices among aggregation solutions good or bad? I'm not entirely sure.
Some advisers choose not to offer account aggregation at all. Some do. It largely depends on how the business is structured and whether or not account aggregation boosts the overall value proposition of the firm.
A Yodlee Backstory
One of the Achilles' heel of financial services is the forced fragmentation of where all of us keep our money.
Your monthly income and spending flows through a bank checking account.
Want a savings account that actually has an annual interest rate that isn't zero? You'll probably open an online savings account.
Want to invest in low-cost mutual funds? You'll likely open an account directly with the fund company.
Want to own a few stocks? You'll need a brokerage account for that.
Want to save for retirement? Your employer requires you to use certain retirement plan providers. Time to open another account.
Want to save for college? Again, your state might have a specific plan sponsor if you want to take advantage of state tax deductions. Boom, another account!
Seriously, why must the industry be so fragmented that consumers have no choice but to open so many discrete accounts across so many financial institutions?!?
So if you're like most people who live on planet Earth and use money, it's nearly impossible to see what you have one place AND keep that report up to date as your spending fluctuates and your investments rise and fall.
Enter Yodlee.
Yodlee seized the opportunity among this fragmentation to facilitate all-in-one reporting. As online financial account access became mainstream, Yodlee allows consumers to grant permission to read data from each financial account and aggregate all that disparate data into one dashboard, the Yodlee MoneyCenter. To build a buisness, Yodlee charges third-party companies (e.g. banks, insurance companies, trust companies, broker-dealers, financial apps like Personal Capital and LearnVest) to be on the receiving end of the aggregated data.
Fast forward to today and Yodlee's market value for its business is in the neighborhood of $660 million.
And now you know the Yodlee backstory (well, as I tell it. There's a lot more to the story, but this is what matters for you, the financial adviser).
Note: An earlier version of this post suggested that rumors indicated the Fiserv adviser-facing product AllData Advisor® was being phased out. A company spokeswoman for Fiserv wrote, "At this time, Fiserv has no plans to phase out the referenced advisor-facing product."