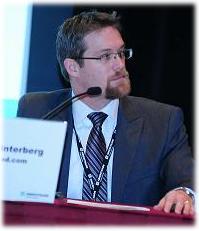 I look forward to speaking at your next event to cover technology topics for wealth managers and financial advisers.
I have presented webinars and live speaking engagements to audiences ranging from 2 to 2,000 individuals. I'm based in Atlanta, GA, providing easy non-stop travel to over 160 domestic destinations.
Book a speaking engagement by Contacting me or send me a @reply message on Twitter.
Upcoming Financial Adviser Technology Speaker Presentations
Below are my confirmed engagements for 2014.  Contact me now to secure your session. (Phrases in parentheses are Twitter hashtags)
AICPA 2014 Advanced Personal Financial Planning Conference

, January 20-22, 2014, Las Vegas, NV

2014 TD Ameritrade Institutional National Conference, January 29-31, 2014
T3 Advisor Conference, February 10-12, 2014, Anaheim, CA
FPA of Oregon & SW Washington 2014 Mid-Winter Conference, February 27, Portland, OR
FPA of Puget Sound 2014 Annual Symposium, February 28, Seattle, WA
Shareholders Service Group Advisor Conference, April 23-25, 2014, San Diego, CA
Most Requested Speaking Topics
My most requested presentations are listed below. Click or tap the title to read the session description. If you don't see the topic you want, contact me about a custom presentation.
The Mobile Adviser: Everything financial advisers need to stay safe, connected, and productive in the Mobile Age
By 2015, experts predict that mobile phone subscriptions will outnumber the world population. Financial advisers recognize that the shift to the Mobile Age will forever change the way they manage their business and engage clients and prospects. However, most advisers simply aren't aware of the best ways to use smartphones, tablets, the cloud, and more.
The office in the Mobile Age isn't a physical place, as it is now possible to work from any location on any device at any time. In this session, financial advisers will learn how to stay safe, connected, and productive as they seek to become "The Mobile Adviser."
Cultivating Clients in a Connected World
Your clients and prospects are communicating and connecting in ways never before possible. Are you ready to engage them?
The Information Age is evolving into an era where always-connected smart phones, cloud computing, and social networks are transforming the way we live and work. But these new technologies also create new pathways to introduce yourself to the next generation of clients, if you know how to use them.
Defend Your Business Against Hacking, Phishing, and Spoofing Attacks
Online "hacktivists" are gaining worldwide notoriety for their hacking exploits. While attacks on banks and financial institutions make headlines, unpublished attacks are directed at financial advisors everyday, with some resulting in significant financial losses and also the loss of client trust.
Because they manage personal and financial details for on behalf of clients, financial advisors must take the necessary steps to decrease their vulnerability to external threats. This session identifies tools and techniques everyone can follow to minimize the chances of becoming a victim of a well-engineered attack.
Effective Ways to Communicate Through Technology
New technology and communication methods are being released nearly every day. Financial advisors have worked diligently over the past decades to cultivate meaningful relationships with clients, but technology is significantly changing the expectations clients have of their advisor.
As a trusted advisor, you want to continue to engage and serve clients to the best of your ability with the aid of technology. In this session, you will learn about current and leading-edge technology to help you do just that.
Transformative Technology You Can Implement Today
Transformative technology gets people talking to you and about you. This session delivers techniques to dramatically transform how you interact with your clients and co-workers using strategies that work in the real world. This session will focus on transforming how you:
(1) collaborate and communicate with clients and colleagues
(2) manage and retrieve information about your clients and your business
(3) optimize your processes to achieve new levels of efficiency
Your takeaways will be tools and strategies to get started transforming your business right now.
The iPad® for Financial Advisers and Wealth Managers
With over 100 million sold and counting, the iPad is no longer considered a passing fad. Apple's innovative tablet can be seen in a variety of financial services industry settings, but when it comes to your clients and prospects, you're not exactly sure of the best ways it can be used.
Whether you've owned all four versions (and the iPad mini) or are still on the fence about a purchase, this session will show you how you can use the iPad to enhance conversations with clients, increase your personal productivity, and protect sensitive information stored on the device.
Past Speaking Engagements Include …
FPA of Rhode Island

The iPad in Financial Services

2013 T3 Enterprise Conference
Video Creation 101 for Advisors webinar (replay available)
WealthCounsel 2013 Planning for the Generations Symposium

Effective Ways to Communicate Through Technology

FPA of Georgia

Cultivating Clients in a Connected World

The Adviser's Mobile World
InvestmentNews Webinar
FPA NorCal 2013
TD Ameritrade Institutional 2013 National Conference

Defending Your Business Against Hacking, Phishing, and Spoofing Attacks (coverage from Financial-Planning.com)
Technology Trends and Future Innovations for the High Margin Practice

Shareholders Service Group, Inc. 2013 Advisor Conference

Cultivating Clients in a Connected World

FPA Retreat 2013

Effective Ways to Communicate Through Technology
FutureThink: Future Scenarios for the Creation, Delivery, & Tracking of Financial Planning (coverage from AdvisorOne.com)

AICPA PFP & CPA/PFS Web Seminar
FPA of Georgia Regional Conference 2013

Technology & Social Media Panel Discussion

FPA Business Solutions 2013
AICPA Advanced PFP Conference 2013

The iPad® in Financial Services

Technology Tools for Today (T3) 2013
Laserfiche Empower 2013

Financial Services Workflow Expert Panel

FPA Experience 2012
NAPFA Genesis Webinar
FPA NorCal 2012

Top Apps for Financial Advisors

TD Ameritrade Institutional 2012 National Conference

Keeping Pace with the Changing Landscape of Advisor Technology
Leveraging Social Media to Connect With Gen X/Y Clients

Technology Tools for Today (T3) 2012

Panel Discussion: Cloud Computing for Advisers
Competing Against "Robo Advisers:" Delivering Advice in a New World (YouTube replay)

AICPA Advanced PFP Conference 2012

The iPad® for Financial Advisers and Wealth Managers
Transformative Technology You Can Implement Today
Best Practice Management Panel

Redtail University – Dallas 2012

Low Cost Apps, High Productivity

Schwab IMPACT® 2011

Building a Compliance-Friendly Social Media Policy

NAPFA Practice Management & Investments 2011

The iPad® for Financial Advisers and Wealth Managers

NAPFA Connections 2011

The iPad® for Financial Advisers and Wealth Managers
Technology Best Practices Panel Discussion

AICPA PFP Web Seminar

Cultivating Clients in a Connected World

CabinetNG Collaborate 2011
Fidelity Technology In Practice 2011
FPA NorCal 2011

Cultivating Clients in a Connected World

NAPFA National 2011

Technology Panel with Jeffrey Daniher and Frank Moore, moderated by Davis Janowski

FPA Retreat 2011

Social Media: It Isn't About Where You Ate Last Night (Session Moderator with panelists Carl Richards, Rick Kahler, and Tim Maurer)
Cultivating Clients in a Connected World

T3 2011: Technology Tools for Today Conference

Transformative Technology You Can Implement Now (presented with Jo Day of Trumpet, Inc.)
iPad: How Advisors Are Using it Productively

Financial Planning Association of Oregon & S.W. Washington, July 2011

Cultivating Clients in a Connected World

Financial Planning Association of San Antonio & South Texas, July 2011

Social Media: It Isn't About Where You Ate Last Night

Financial Planning Association 2010 National Conference

Emerging Trends in Financial Service Technology

TD Ameritrade Institutional 2010 National Conference
The Standard® Webinar Series

Productivity Tips: How to Get More Done (replay available)

Financial Planning Association of Maryland

Compliance Issues Related to Social Networking Tools

FPA Business Solutions 2010

CRM: No Longer a Luxury, A Necessity

InvestmentNews Webcast (replay available)

50 Cost-Saving and Money-Making Ideas in 50 Minutes (my portion begins at the -27:50 time point)

ASPPA 401(k) SUMMIT2010

Road Warrior Best Practices: How to Select and Implement Mobile Technology Solutions

ByAllAccounts Webcast (replay available)

Understanding Inherent Risks Associated with Custody of Client Credentials

Investigo, a division of Broadridge, User Conference

Emerging Trends in Financial Service Technology

Advisors Going Independent Webinar Series (replay available)

Setting Up A New Advisory Firm

Advisor Products, Inc. Financial Crisis Webinar Series (replay available)

Advisors Using Social Networking Successfully

SRI in the Rockies 2009 Pre-Conference for members of First Affirmative Financial Network

Enhancing Relationship Continuity with CRM
Better Service in Less Time: Tools for Advisor Productivity

Financial Planning Association of Oregon & SW Washington

Enhancing Relationship Continuity with CRM

Financial Planning Association of Mid-Oregon

Enhancing Relationship Continuity with CRM

Financial Planning Association of Dallas/Ft Worth

Career Path Round Table for Young Planners and Career Changers