Wednesday's post on client spoofing received tremendous response from readers and subscribers. Many of you shared your own stories of attempted client spoofing that was eventually detected, and several asked about practices that can be employed to increase the recognition of spoofing without overburdening back office staff and clients. I'm working on several follow up posts to break down examples and provide more information and resources advisers can use to be vigilant against spoofing.
And with that, let's move on to this week's stories of interest:
First up is this month's Morningstar Advisor column, Laserfiche Offers Cloud Connectivity. This leading provider of on-premises document management software is now extending its product line to include a service delivered exclusively over the cloud. This makes the program, one that traditionally required large up-front costs, a more cost-effective option for advisers.
Advisers and iPads: Signs of a tipping point? from InvestmentNews.com
[You know all-too well that iPads are the tablet of choice among advisers. I have the following slide shown below in my iPad presentation showing how much traffic FPPad.com gets from the device. I get 53% from iPads, 27% from iPhone, 16% from Android and 4% for everything else. The FPPad adviser audience should be more tech-savvy than the broad InvestmentNews audience, and it shows! Thank you!] Roughly 36% of our mobile visits [to InvestmentNews.com] came from the iPad in March, compared with roughly 35% from the iPhone, which came in as No. 2 for mobile traffic sources.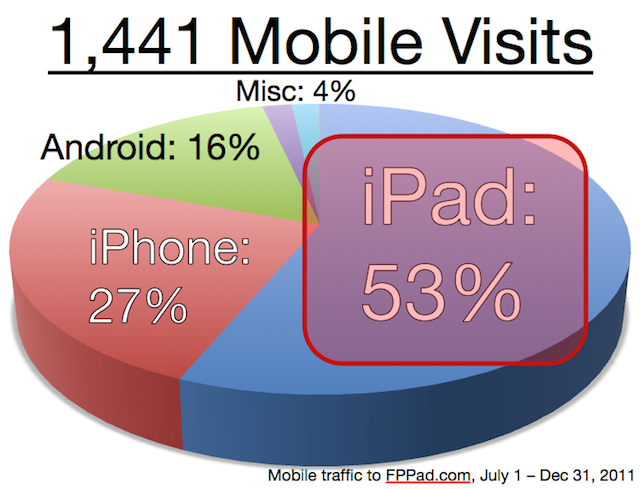 2012 Is on Us: Egnyte Announces Box Buster Buyout Program from MarketWatch.com
[Advisers visit FPPad for information on cloud file storage services like Dropbox, ShareFile, and Box, but one that I haven't specifically covered (though it's on my resource radar) is Egnyte. This press release from the company features useful feedback from one Dallas-based RIA, True North Advisors, on how the solution satisfied the firm's needs for security and easy deployment.] Egnyte, the leading provider of Cloud and HybridCloud File Sharing solutions for Businesses, today announced the Box Buster Buyout program. Aimed at businesses that are paying for Box accounts and found they've outgrown their usefulness, the Box Buster program allows paying Box customers to switch to a matching plan on Egnyte, at no cost for the duration of 2012 and free migration.
LogMeIn Prepares To Take On Dropbox & Box With Launch Of Cloud Storage Service Cubby from TechCrunch.com
[Like I said above, cloud file storage services are getting lots of attention from everywhere. Here's yet another service from the folks at LogMeIn called Cubby to add to your list of potential resources.] LogMeIn, the company known best for its remote access tools, is today launching its own cloud storage service, as an alternative to those from Dropbox or Box, for example.