On today's broadcast, learn about top advisor technology from the Finovate Spring 2016, two lessons you should learn from a Salesforce database outage, hear top technology tips from industry experts, and more.
So get ready, FPPad Bits and Bytes begins now!
(Watch FPPad Bits and Bytes on YouTube)
Today's episode is brought to you by Riskalyze, the company that invented the Risk Number™ and twice named as one of the world's 10 most innovative companies in finance by Fast Company Magazine.

Advisors use Riskalyze to show prospects they're invested wrong and prove to clients they're invested right. See how Riskalyze creates fearless investors by visiting riskalyze.com/fppad to book a guided tour.
Here are the links to this week's top stories:
Client Insight for Wealth Management from IBM, and
IBM Watson-infused robo wants to help advisers, not beat them from Financial Planning
Envestnet Advisor Now demo from Finovate Europe 2016
[This week's top story covers the Finovate Spring 2016 event held earlier this week in San Jose, California. With over 70 demos spread across two days, here are my picks for the most promising solutions for financial advisors.
First is IBM, as the company demoed its Client Insight for Wealth Management solution, designed to deliver better insights about your clients powered by, you guessed it, IBM Analytics. The Client Insight dashboard segments your clients by their behavioral profiles, predicts the likelihood of clients experiencing a significant life event, and automatically generates a list of top actions clients should take to make progress on their financial goals.
The analytics-powered insight is great, but it's not yet clear to me if the solution is something you can buy today or if it requires an integration with the technology providers that you use, particularly with your CRM software. One third-party example I can think of is the automated investment service from Marstone, which to me, still seems to be evolving and appears to be rolling out at a very measured pace. So, if you want to start seeing some of these cognitive-powered insights in the tools you use, I think you need to prepare to spend a little bit more on your technology to make these benefits a reality.
The second demo of note came from Envestnet, as the company highlighted Advisor Now, which is now being positioned as an online financial planning tool that can be white-labeled by financial institutions or you, the independent financial advisor.
Advisor Now's capabilities are quite a bit different than this time last year when the solution was first announced, as Envestnet is further leveraging its technology acquisitions of Upside, Yodlee, and Finance Logix.
Next week I'm headed to the Envestnet Advisor Summit in Chicago where I plan to get more details on Advisor New, but in the meantime you can watch a recent Advisor Now demo from Finovate Europe] IBM offers you a whole new level of insight to serve your customers with the most relevant offerings that helps you drive new revenue. It enables you to segment your customers quickly and analyze their behavior to deliver cross sell/ up sell offers which helps increase loyalty, retention and customer satisfaction.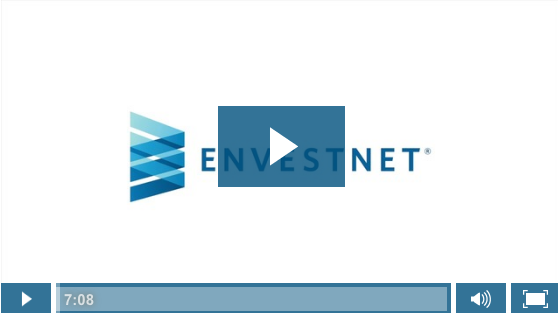 Salesforce outage persists across US, CEO wades in from ZDNet, and
The Burning Irony of Salesforce's #NA14 Social Media Nightmare from Medium
[Next up is news on Salesforce, as the company unfortunately suffered a failure in one of its critical databases this week affecting several thousand of its customers in North America. The outage of the NA14 database lasted for about a day and a half, causing many users to publicly vent their frustrations on Twitter.
Closer to home, I didn't hear from any advisors who were affected by the downtime, which is good, but there are still two lessons I want you to take away from this incident.
First, when you use any cloud-based system, especially a CRM, be absolutely certain that you have an offline backup of the critical information you need to take care of clients. Make it part of your process now to export data like names, phone numbers, and email addresses so you can stay in touch with clients if and when your online systems have extended downtime.
And second, make plans now for what you're going to do when your firm experiences a crisis. How will you contact clients? Will you post information on your website, or provide updates on Twitter? Whatever you do, identify your process in your disaster recovery and business continuity plan, and if it's been a while since you tested your communication in a crisis, well, you might want to do something about that.] A Salesforce database failure has left some clients unable to access their services across the United States, prompting the firm's chief executive to step in.
2016 SSG Conference Technology Panel from YouTube
[And finally, wrapping up this week's broadcast is news from Shareholders Service Group, as I attended their annual conference in San Diego a few weeks ago. One of the general sessions I attended was a panel discussion on technology opportunities that lie ahead for independent financial advisors, so I caught up with each of the panelists,
Greg Friedman of Private Ocean, Dave Welling of SS&C Advisory Market Group, Tim Welsh of Nexus Strategy, and Joel Bruckenstein of Technology Tools for Today, to get their main takeaways from the session and hear best advice for advisors from a technology perspective.
The full video from the event is embedded over on website along with a few additional stories that didn't make this week's broadcast.]
Here are stories that didn't make this week's broadcast:
Docupace Closes on Management Buyback Transaction from BusinessWire
Docupace Technologies LLC, a premier digital compliance and cyber security company in the financial services industry, completed its planned repurchase of the majority interest in the company previously held by RCS Capital Corporation.
New Marketing Materials from Hidden Levers
HiddenLevers now provides pre-made marketing materials that can be used with clients. These include printable brochures, embeddable videos, website and signature plugins.