On today's broadcast, online investment advisors are coming to an RIA new you. Find out who the latest company is to enter this growing market. JemStep is another provider that's white-labeling its technology to RIAs. Learn how one RIA is using the platform to serve its emerging clients. And Joel Bruckenstein is concerned about the future of advisor technology. Find out what issues keep this technology expert up at night.
So get ready, FPPad Bits and Bytes begins now.
(Watch FPPad Bits and Bytes on YouTube)
Today's episode is brought to you by ITEGRIA, providers of complete outsourced technology support, security, infrastructure and IT solutions exclusively for RIAs.

To learn how you can keep your data safe from attackers, download a free copy of their latest white paper on social engineering attacks by visiting fppad.com/itegria.
Here are the links to this week's top stories:
Upside Raises $1.1M To Help Investment Advisers Compete Against Wealthfront, Betterment And Co. from TechCrunch
[This week's top story comes from Upside Advisor, the latest startup to join the class of online investment advice providers. But unlike the direct-to-consumer startups like Wealthfront and FutureAdvisor, Upside Advisor is specifically targeting financial advisors who can white label Upside Advisor's platform to provide a low-cost managed account solution to their emerging clients.
Upside's platform offers paperless account opening using a DocuSign integration, automated trading and rebalancing, a client portal, and more, and just raised $1.1 million in new funding to continue to enhance its features for advisors. Upside comes on the heels of the introduction of Guide Financial, a similar advisor-focused solution I highlighted back in March in episode 124, giving you one more solution to offer a low-cost, high-tech automated solution to compete with the algorithm-based competition.] Upside, which today announced that it has raised a $1.1 million funding round led by Cultivation Capital, gives financial advisers a white label solution that's very similar to what other robo-advisers offer.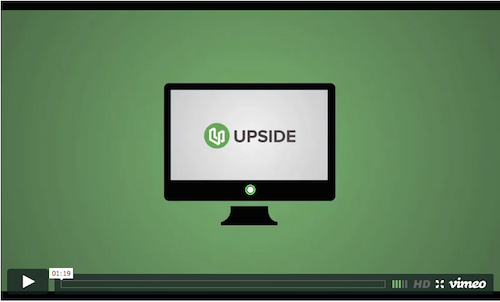 Traditional advisory firm hammers out deal with robo-adviser from InvestmentNews
[Now another online investment provider also dipping its toe into the RIA waters is JemStep, which just recently announced a partnership with Redhawk Wealth Advisors based in Minneapolis. Under the agreement, the RIA is able to white label the JemStep platform as Redhawk Online Advisor, where investors can sign up online, connect their financial accounts, and receive investment recommendations for a fee ranging from $17 to $69 dollars a month based on the amount of assets under advisement.
It's important note that while JemStep offers investment recommendations, it does not automatically execute trades on behalf of its users. Actually following through on JemStep's recommendations is the responsibility of either the advisor or the end-user, which could pose an implementation challenge as the platform gains momentum with RIAs.] Redhawk Wealth Advisors, a registered investment adviser with a wealth management practice, and Jemstep Inc., also an RIA but with an algorithm-driven account aggregation and investment advice platform, have become partners, bringing online advice to help Redhawk's retail clients manage their investments, including funds held in their 401(k) accounts.
Things That Keep Me Up At Night from Financial Advisor Magazine
[And finally, all this news about competition from online investment advice providers might give you cause for concern, and it's also one of the topics that keeps technology consultant Joel Bruckenstein up at night, too. In his latest column for Financial Advisor Magazine, Bruckenstein expresses his anxiety over the state of affairs in financial advisor technology.
He highlights complacency, insufficient integrations, and competition from automated online advisors as significant threats to the growth and success of the independent advisory industry. Fortunately, Bruckenstein cites vendors like Envestnet|Tamarac, Orion Advisor Services, Ornaj, Advyzon, and more who can equip independent advisors with technology solutions that not only rival those of the competition, but can also live up to the increased expectations from today's tech-savvy clients and prospects.] Over the last several months, I've traveled thousands of miles, met hundreds of advisors and spoken with numerous representatives of custodians, broker-dealers and software vendors. Although I'm generally rather upbeat about the future of this industry, there are some things that concern me about current affairs.
Here are the stories that didn't make this week's broadcast:
Advent's Black Diamond Platform Surpasses 500-Client Milestone from Advent
Advent Software, Inc., a leading provider of software and services for the global investment management industry, today announced that Black Diamond, an independent business group of Advent, has surpassed 540 clients and exceeded $245 billion in assets on its portfolio management, reporting, and rebalancing platform.
Wealth Managers Enlist Spy Tools to Map Portfolios from the New York Times
Some of the engineers who used to help the Central Intelligence Agency solve problems have moved on to another challenge: determining the value of every conceivable investment in the world.
Vestorly Partners With Advisor Websites to Enhance Client Engagement and Lead Generation from PRWeb
Vestorly, a leading client engagement and lead generation platform, and Advisor Websites, a leading provider of websites to advisors, announced today a joint venture to develop highly engaging websites that build advisors' brands with investors, as well as generate qualified leads for marketing purposes.
Announcing our new release from Guide Financial
At Guide Financial, our core mission is to help America's next generation achieve a secure financial future. We are excited to roll out a new release that underscores our commitment to advisors serving the next generation. The new release is now available to currently subscribed advisors and will become more broadly available in the coming weeks.