Quick Take:
Ed O'Brien, former head of platform technology, Fidelity Institutional, will leave the company to become CEO of eMoney Advisor
As eMoney CEO, O'Brien will report to Fidelity Wealth Technology president Mike Durbin
Prior to assuming the eMoney CEO role, O'Brien reported directly to Durbin for seven years
Durbin stresses the CEO search included "a long list of candidates"
I'm taking a "wait and see" attitude to see if eMoney can continue its aggressive innovation as a digital wealth management provider with O'Brien as CEO
(3 minute read) (Updated 4:01pm ET)
In a press release yesterday, eMoney Advisor announced Edward O'Brien was hired as Chief Executive Officer of the firm.
Wait and See
I'm not as overly enthusiastic as others seem to be on the prospects of innovation from eMoney Advisor.
I posted a poll on Twitter to survey my followers whether they think the hiring of O'Brien as CEO of eMoney is positive, negative, or let's wait and see.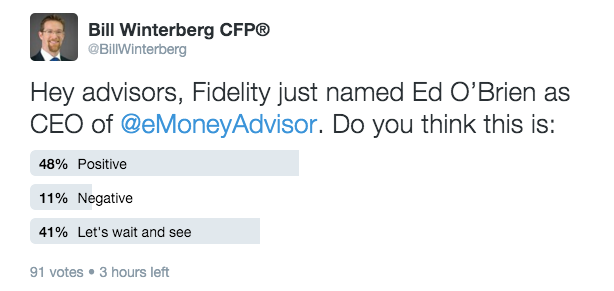 It's a close race between a positive and the "let's wait and see option," and I fall into the wait and see camp.
Fidelity First?
In order to maximize its acquisition of eMoney (for a reported $250 million), Fidelity needs assurance that eMoney's product roadmap will directly benefit the custodian's various lines of business in order make a return on their investment.
And once Edmond Walters abruptly resigned as CEO of eMoney in September 2015, Fidelity was granted the opportunity to fill the vacant position with an individual who can strongly influence eMoney's strategy in Fidelity's favor.
It makes a lot of sense that Ed O'Brien, a long-time Fidelity executive with decades of industry experience, fill the CEO position.
Don't get me wrong: few in the industry have O'Brien's experience and tenure leading teams to develop financial services technology, and that experience should directly benefit eMoney.
This is most definitely a good thing.
But when it comes to developing an innovative, yet untested/unproven, feature versus developing the market of Fidelity's existing customers, who wins?
Technically Independent
Even though eMoney Advisor will continue to operate "technically" as an independent organization, I cannot help but connect the dots that the hierarchy of O'Brien under Durbin will influence the eMoney Advisor product roadmap.
O'Brien is not only a Fidelity insider, he has reported directly to Fidelity Wealth Technologies president (and former Fidelity Institutional Wealth Services president) Mike Durbin for over seven years.
When originally acquired, eMoney was organized under the yet-to-be-announced Fidelity Wealth Technologies, a division of Fidelity Enterprise Services led by president Michael Wilens. Fidelity waited several weeks after the eMoney acquisition to announce the creation of Fidelity Wealth Technologies, according to the company spokesperson.
eMoney was technically never organized directly under Wilens and Fidelity Enterprise Services, as the company has always been under the direction of Durbin's Fidelity Wealth Technologies group.
Actions Speak Louder Than Words
Durbin most definitely anticipated the connection I made, stressing how O'Brien topped a long list of "both internal and external candidates."
Durbin also took the liberty to call out doubters (such as myself), saying in an open letter posted to the eMoney blog.
Don't buy it? No problem – actions speak louder than words.  And I welcome you to watch and see for yourself how it continues to unfold.
Ok. I'm watching.
See, I'm just a guy in Atlanta who wants to help advisors sort through copious (and often confusing) technology options for their business so they can be better advisors. I'm not the head of a major custodian, CEO of a technology vendor, or even an executive of a multi-billion dollar RIA.
But I take my role seriously to navigate what can be a very murky and (sometimes) conflicted fintech ecosystem.
I can't help but imagine how the connection between O'Brien and Durbin will steer eMoney's strategy to favor Fidelity relationships ahead of other innovation.
Yet I agree with Durbin: Actions will speak louder than words.
Will eMoney's existing culture of relentless innovation and development continue to flourish, or will O'Brien's longtime bond with Fidelity suppress eMoney's characteristic risk-taking in favor of the parent company's interests?
I so want the former scenario to transpire, but hey, business is business, and it's not always possible to satisfy multiple objectives at once.
Let's wait and see.
Updated: The following corrections to the original post have been made
Ed O'Brien's former title corrected to head of platform technology, Fidelity Institutional.
At the time of acquisition, eMoney Advisor was structured under Fidelity Wealth Technologies, a division of Fidelity Enterprise Services, and not directly under Wilens' Fidelity Enterprise Services group, according to the company spokesperson
Corrected timetable, adding O'Brien's reporting change in July 2013 and structure of eMoney under Durbin's yet-to-be-announced Fidelity Wealth Technologies group
Timetable
If you're not completely in the know regarding the events that preceded this news, here's a timetable of what's happened.
I also made two flowcharts (being updated now, so check back soon) showing the hierarchy of Fidelity's different businesses that illustrates how not much has changed between Durbin and O'Brien before and after the eMoney acquisition.
Prior to July 2013, O'Brien reported to Mike Durbin, president of Fidelity Institutional Wealth Services
In July 2013, O'Brien reports under Ron DePoalo, CIO for Fidelity Institutional, when the company aligned the platform technology team across the clearing and custody businesses
Fidelity acquires eMoney in February 2015 and places CEO Edmond Walters under Durbin's yet-to-be-announced Fidelity Wealth Technologies group
Weeks later, Fidelity officially announces the combination of the clearing and custody businesses, creating a new Fidelity Wealth Technologies group with Mike Durbin as president. O'Brien remains under DePoalo in Fidelity Institutional, Walters remains under Durbin as originally structured
In September 2015, Walters resigns and Durbin assumes the interim CEO role for eMoney
In March 2016, eMoney Advisor hires O'Brien as CEO of eMoney
As a business unit under Fidelity Wealth Technologies, O'Brien will once again to report to Durbin in his new role as eMoney Advisor CEO