I've aggregated the best Black Friday deals I could find on audio and video gear you can use to create online content for your business.
Check out the list below, and if you find any great deals I haven't listed, leave a link in the comments below or send me a tweet to @billwinterberg.
NOTE: Links to products on Amazon are my affiliate links, so I earn 4 to 6% if you use the links to purchase. Also, links to online sites may not reflect Black Friday pricing until Thursday or Friday, so check back often if the prices don't yet match the prices I cite in this post.
Last updated November 26, 2016 at 9:51 AM
GoPro Hero 5 Black/Hero 4 Silver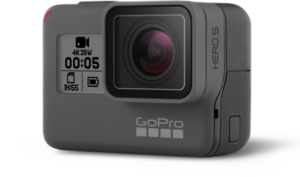 Target has the GoPro Hero 5 Black (view the Target Black Friday ad) for the regular price of $399, but for Black Friday the purchase comes with a $60 Target gift card.
For an even better deal, Sam's Club has a GoPro Hero 4 Silver bundle at $199 (view Sam's Club Black Friday ad) with a dual charger, extra battery, and a 16GB microSD memory card. That's a great deal for a more-than-adequate GoPro, since the Hero 4 Silver is what I use for my own action shots. Amazon has the Hero 4 Silver for $278 with no accessories and Walmart has it for 293!
Canon EOS Rebel T5i/T6i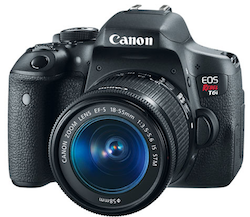 Best Buy has the Canon EOS Rebel T6i bundle for $699, (view the Best Buy ad) which includes an 18-55mm lens, a Rode VIDEOMIC GO and a 32GB SD memory card. Why do you want the T6i? Because it has a flip-out LCD screen, so you can view the screen when you are filming while holding the camera towards you (aka "selfie" mode).
The Best Buy T6i bundle is a much better deal than Target's sale of just the camera and lens for $649. That Rode VIDEOMIC GO and memory card are worth more than $50!
Amazon has last year's Canon EOS Rebel T5i version available with a "Video Creator Kit" for $649 that includes a Rode VIDEOMIC GO and a 32GB SD memory card. The bundle also includes extra batteries and a carrying bag. For just $50 more on the Best Buy bundle, you'll step up in sensor quality (see below) but give up a battery and a carrying bag.
The biggest difference between the T6i and T5i is the sensor, with the T6i featuring 24.2 megapixels and the T5i at 18 megapixels. Honestly, if you're uploading video you shoot in 1080 HD to YouTube, you're probably not going to see a noticeable difference between the two. But if you plan on using the camera for filming in front of a green screen, you'll want to go with the bigger sensor of the T6i (with the caveat that perhaps a completely other camera is in order for green screen work with a full-frame sensor, lower compression, and on and on, but that will cost thousands of dollars).
Both the T6i and the T5i come with the standard 18-55mm lens, which is fine to first get to know how to use the camera, but you'll likely want to purchase a wide angle lens (like this Sigma 10-20mm f/3.5 for $449) that works with this camera.
Mevo by livestream
You can get the Mevo bundle from livestream this week for $549 which includes the camera, Mevo Boost external battery and network adapter, and a carrying case.
If you don't know how you could use the Mevo in your business, watch the video below I made at the livestream booth the 2016 NAB Show.
Apple MacBook
My 13″ MacBook Pro is a workhorse, supporting real-time video editing and uploading while on the road. For Black Friday, Best Buy has select MacBooks up to $200 off, so check their website and see if any of their deals are ones you can't pass up.
LED Lighting
The Fotodiox Black Friday deals were only available on Friday, so I've removed the links to the LED lighting that was on sale.
Tripods
Best Buy has this Sunpak TravelLite Pro 63″ tripod for $49 this week (view the Best Buy ad). While not as high quality as a MeFOTO or Manfrotto collapsible tripod, the Sunpak doesn't come with the $200 price tag.
Speaking of Manfrotto, they have Black Friday specials including the BeFree One tripod for $99 (a great deal while supplies last, but I didn't see any inventory when I checked Thursday at 9:35 AM) and $100 off select carbon fiber tripods.