I'm attending Andrew Gluck's Financial Crisis Webinar today featuring Mark Tibergien, CEO of Pershing Advisor Solutions, LLC. 
Part of what Andrew did was use a short survey to gather feedback from people who registered for the webinar 
Read Andrew's blog How Advisors Are Responding to the Crisis.
Andrew listed many comments from advisers that feature all sorts of strategies and ideas.  It's a lengthy list, and I must admit, I didn't get a sense of what the majority of respondents were doing.
Enter the Tag Cloud.
You may have seen tag clouds on other websites.  Basically, a tag cloud is a block of text grouped together with frequently recurring words in large font next to occasional words in small font.  The cloud is a quick way to see what topics or words come up in some sort of text, online discussion, or review.
I previously wrote about the tag cloud featured on TwitScoop to get an idea of what the Twitter community is discussing.
So I took the responses to Andrew's survey and put them in a quick tag cloud generator.  So to save you time of reading trough nearly a hundred individual replies, you can get a feeling of the common themes with the tag cloud below (click the image for the full-size cloud).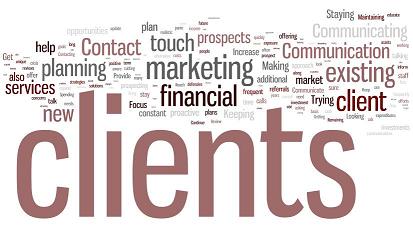 I used a totally awesome tag cloud generator called Wordle.  Click here to use Wordle.  I found out about Wordle by searching Twitter.
Related Posts