Advisers using the Veo®  Mobile app can trade and view client account information in real time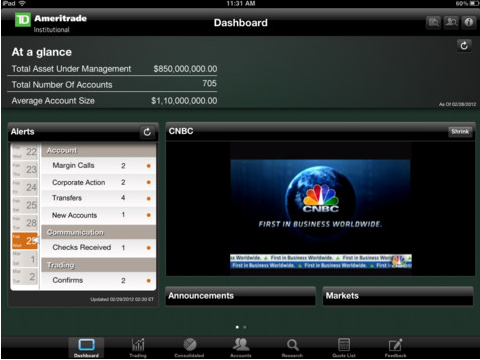 In a press release today, TD Ameritrade Institutional announced several enhancements to mobile apps it provides for the Veo® advisor platform.
Click here to read the press release (at Marketwatch.com)
If you recall my interview with Chris Valleley, Senior Manager of Technology Product Management, he mentioned that the trading interface would be opened up to partners through Veo® Open Access, including the company's own iRebal rebalancing software provider. Now that same trading capability has been expanded to include mobile apps available to advisers who custody assets with TD Ameritrade Institutional.
In today's release, Jon Patullo, Managing Director of Technology Product Management commented, "In today's volatile economic environment, advisors need to be able to stay connected while on the go and have the ability to monitor markets and manage their business anytime, anywhere."
However, not all advisors are on board with trading via mobile devices as noted in this recent RIABiz article, Why RIAs are shunning mobile apps and why Black Diamond, Orion, Fidelity and others are still placing their chips on an iPad future.
In some circumstances, advisers may find the trading functions too limited to submit bulk trades across all client accounts or to perform sophisticated rebalancing. On the other hand, being able to conduct one-off trades while away from the home office is very convenient, and is becoming a more frequent circumstance with advisers seeking productivity from mobile apps while on the road.
Veo® Mobile is available for download from the iTunes app store.