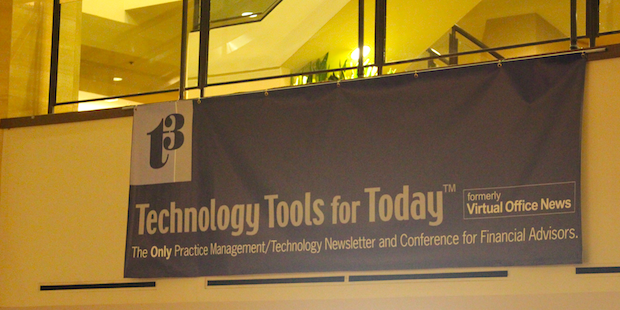 T3 2014 is the place to be and be seen for all things financial adviser technology
T3 2014 Draws Over 600 Attendees
Joel Bruckenstein and David Drucker are no strangers to the technology trends in financial services over the last decade. Their premier conference, Technology Tools for Today, or T3, is in its ninth year, and in that time the duo have been on the front lines of pushing the envelope of technology.
If you're not attending the event this year, you can still get you day started with the Day 1 conference intro video I created to kick off the event.
And no, you can't wear a tie to T3! Or at least you shouldn't. Rumor has it Bruckenstein is walking around with a pair of freshly sharpened scissors!
New Companies Aplenty
Bruckenstein and Drucker announced that this year's event drew over 600 registered attendees and a record number of new companies launching new products or services built for financial advisers.
A quick tour of the exhibit hall reveals that several of these new companies include Gotham Tech Labs and its Wealthbox CRM platform, Quovo and its portfolio aggregation and analytics platform, and RetireUp and its quick retirement plan illustration tool.
As time allows, check back here at FPPad.com for updates and buzz on some of the best sessions and discussions in and around the show floor.