Firms selected for growth, technology innovations, and dedication to the profession.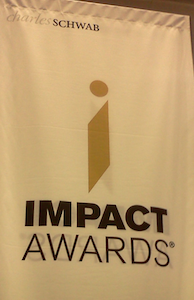 Bernie Clark, Executive Vice President of Schwab Advisor Services, greeted a crowd of nearly 4,000 in the Moscone Center this morning to announce the 2011 Schwab IMPACT Award winners.
Click here to view each video of award winners on the ImpactAwards website.
2011 Pacesetter Award
This year's winner is Green Square Capital of Memphis, TN. They were cited for their 30%+ annual growth rate, successes in linking workflow to their service platform, and commitment to strategic planning
In a highlight video, Co-CEOs Steven Sansom and Darrell Horn discussed their use of employee scorecards, posted on each employee's desk that can be reviewed anytime for progress and updates on personal and professional development.
In addition, Sansom and Horn talked about their "Client Delights" service, which represent a variety of non-financial "wow factors" the firm strives to deliver to clients to reach beyond traditional investment and financial planning services.
2011 Best-in-Business award
This year, there is no separated award given for technology innovation. Now, the award is wrapped inside the Best-in-Business award, and this year's winner is Brudros, Ruhlin & Roe, Inc. of Columbus, OH. Peggy Ruhlin, James Budros, and Dan Roe offered one takeaway on what their firm is doing to manage its back office infrastructure and technology.
Brudros, Ruhlin & Roe decided to make technology a client, citing that technology previously didn't get the attention it deserved. So treating technology as if it were a client of the firm, advisors treated every meeting, every dollar, and every idea as being just as important as the work the firm does for clients.
2011 Leadership award
This year's Leadership award was presented to Richard Stone, CEO of Private Ocean. Stone was part of the first graduating class of CERTIFIED FINANCIAL PLANNER(TM) certificants in the early 70′s and authored the young organization's first Code of Ethics.
Stone's commitment to the education of young professionals and service on local education boards, including San Jose State University and UC Berkeley, exemplifies his dedication to the future of the profession and demonstrates his role as a leader in the industry.
Congratulations to all of this year's award winners, and later on in the conference, I hope to deliver some of the best practices they highlight that helped each of them achieve such distinguished recognition.