Fidelity Institutional's Office of the Future shows how an adviser's future office may not be a physical office at all
Recently I was invited to tour Fidelity Institutional's Office of the Future, the company's bold statement on where it believes the adviser's future workplace is headed.
Irony notwithstanding, Fidelity Institutional's Office of the Future does, in fact, occupy a physical space in the company's Smithfield, RI campus located about an hour's drive south of its Boston, Mass. headquarters.
Ed O'Brien, head of platform technology for Fidelity Institutional, gave me a personal tour of the Office of the Future to highlight tools and technology advisers can use to invest in their own progressive workplace. A virtual Office of the Future tour is available on Fidelity's website at https://fidelityinstitutional.fidelity.com/fi/campaigns/office-of-future/fidelity.html
The Office of the Future is segmented into four distinct areas, each highlighting specific concepts and tools in technology that advisers can deploy in their office: the briefing room, the "anywhere adviser" zone, the collaborative office, and the home environment.
Briefing Room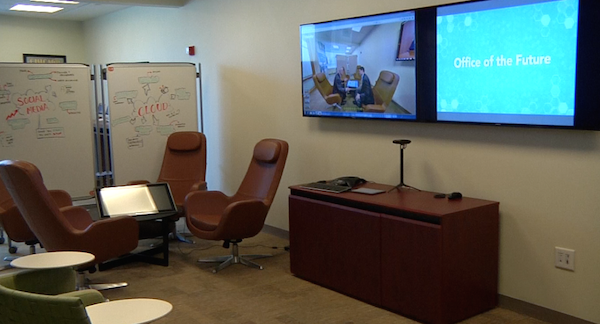 In the briefing room, advisers will find large, HD displays connected to a virtual conferencing system. Advisers can use HD video conferencing to create an interactive bridge with colleagues in remote offices, back office support at the home office, or even with clients (but more on that in the home environment).
In addition, the briefing room is not filled with large, encroaching conference tables. Instead, advisers will find an inviting circle of chairs surrounding a large Lenovo Horizon II 27-Inch All-in-One Touchscreen Desktop
 where they can sit on the same side of the table with clients and begin to navigate through documents, reports, and other on-screen information in an engaging, dynamic setting.
"Anywhere Advisor" Zone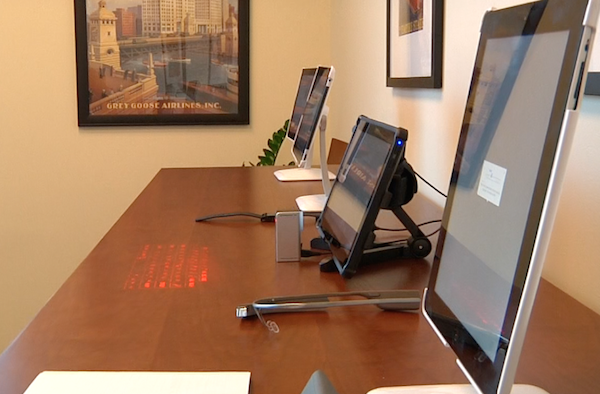 Fidelity's O'Brien understands that the adviser no longer does 100% of his or her work in the physical office, and has the need to be productive no matter where his or her travels may lead. So Fidelity's second room is nicknamed the "anywhere advisor" zone, where advisers can try technology that supports productivity while away from the traditional office.
O'Brien demonstrated the presentation apps on tablet devices that synchronize annotations and markup to any virtual meeting attendee, a Celluon EPIC Virtual Keyboard
 for the ability to type on any flat surface, a Pebble Steel Smart Watch
to view notifications and incoming call information without taking one's phone out of a pocket or handbag, and the arguably controversial Google Glass.
Collaborative Office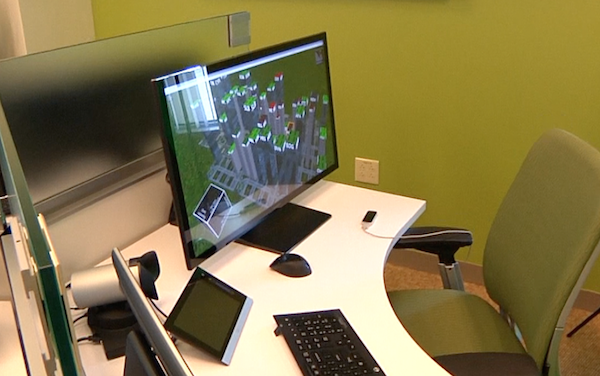 In the collaborative office, O'Brien is quick to point out that there are no physical servers supporting the devices in the office. Instead, the collaborative office features three different styles of workstations, from the low-cost tablet and virtual desktop configuration up to the fully-loaded multiple monitor and HD video conferencing equipment from Cisco.
In addition, the collaborative office features a green screen backdrop that advisers can use to create their own video content for clients and prospects, and use the video to add their own background images, graphics, and other information to make compelling content for their audience (much like I do with my own FPPad Bits and Bytes broadcasts).
The Home Environment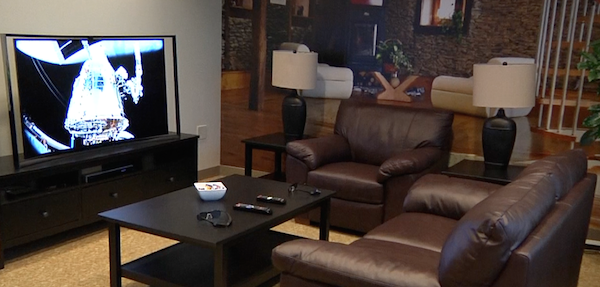 Finally, the last stop on the Office of the Future tour is the home environment, where O'Brien says more and more of the adviser-client interactions will take place.
Clients are increasingly seeking convenient options to work with financial advisers, and that includes the ability to chat and engage with an adviser from the comfort of their own living room.
Video chat services like Skype, Google Hangouts, and Apple FaceTime allow clients to have productive, meaningful conversations with their adviser, without dealing with the hassles of driving to an adviser's office or even identifying advisor they want to work with that happens to have an office near their home.  Using this technology, clients are free to work with an adviser anywhere in the United States and conduct those meetings at times convenient to them.